Kitchens are one of the most expensive rooms to remodel. But you can save a fair amount of money if you are wanting to update the look but wanting to keep your current kitchen layout. New cabinets are usually the most expensive aspect of a kitchen remodeling projects. Cabinet refacing allows you to use your existing cabinets, if they are in good repair, and giving them a fresh update, saving you thousands of dollars. Here are several ways that refacing your kitchen can give it a modern look.
Updated Cabinet Door & Drawer Style
One of the consistent features of a modern kitchen are flat panel doors, which we call Slab style. This style is very popular in Scandinavian design, which has attracted people's attention around the world for the clean, minimal look that is offers.  If the Slab style is too plan for your taste, many people end up with a Flat Panel style to add more visual interest. Learn more about our door styles on our website.
Change Up Your Cabinet Color
Cabinet refacing allows you to change up the wood type and finish quite easily. We use your existing cabinets and apply a durable veneer, making your cabinets look brand new. Your tired, honey oak cabinets can be easily transformed into bright white, mid tone grey, or even classic black. Also, with cabinet refacing you can two-tone your cabinet with the base cabinets refacing in one color and upper cabinets refacing in a different. Our refacing product provider strives to ensure we have on-trend selections to provide our clients, therefore we also offer a selection of blues. To keep with a modern look we suggest using Maple wood as it has a beautiful muted grain and when painted had a smooth, uniform look. We have a selection of 34 paint colors and 14 stain colors.
Add New Hardware
Since with cabinet refacing we are changing out our door and drawer fronts, it is also a great time to update your cabinet hardware. Modern style kitchens are marketed by either grooves or channels into the door and drawer, but if you want to add more visual interest you can use tubular or flat linear pulls. You want to make sure that you keep your hardware simple. Chrome and brushed nickel are popular finishes to accent a modern style kitchen. We don't source hardware, but we can install any hardware you purchase.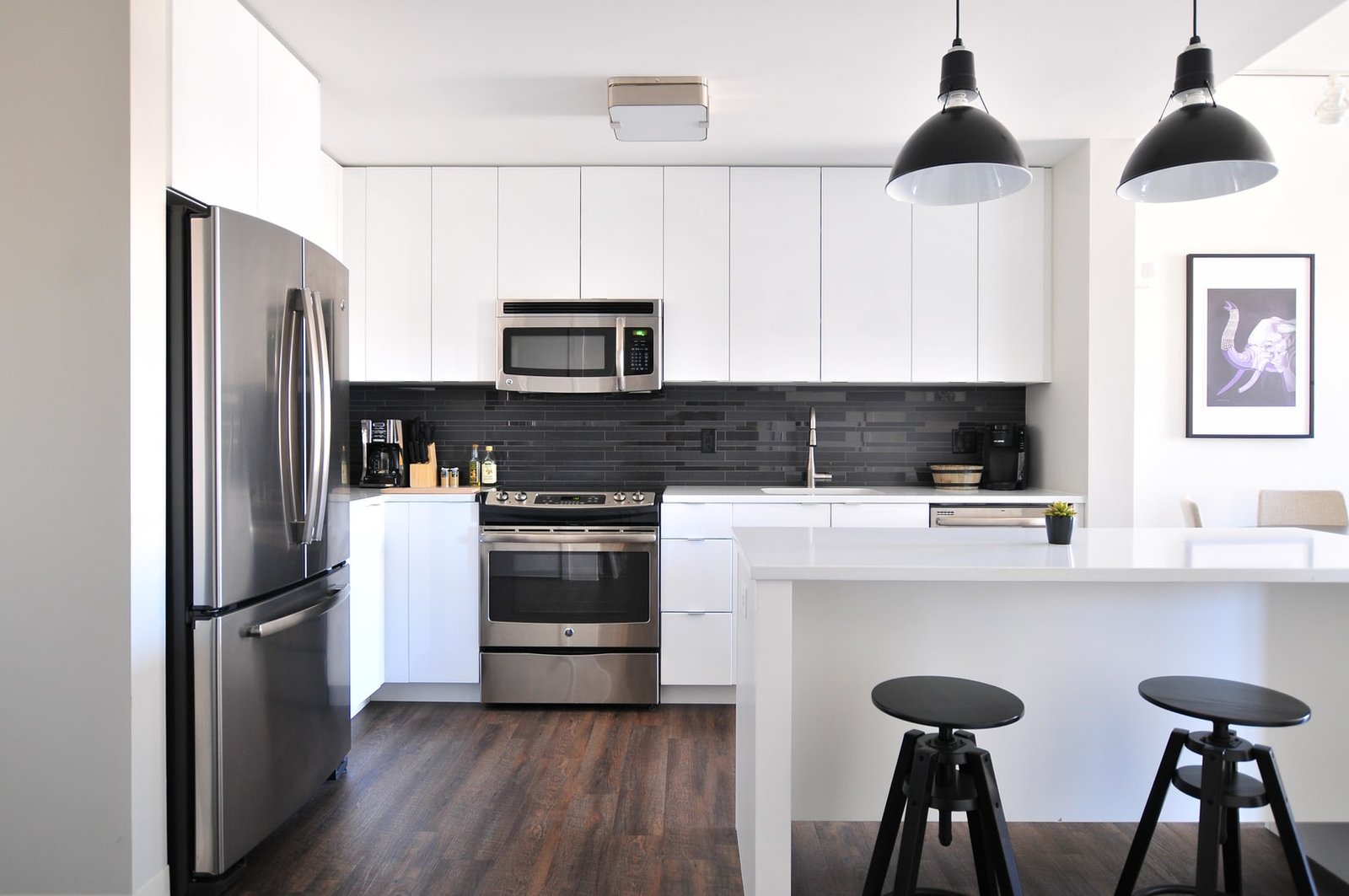 Get a New Countertop
With changing the color of your cabinets, you may need to look at getting a new countertop. Although we don't provide countertops, we can point you in the right direction and we are happy to install them for you. The last thing you want to do is to reuse and old, tired, stained or chipped countertop on your newly refaced kitchen cabinets!
If you are looking to modernize your kitchen, look first at cabinet refacing rather than a complete kitchen remodel and you will be surprised at the cost savings. You can start with a free in-home consultation where we can you an estimate, or you can give us a call to discuss your project before scheduling an appointment: 248-669-1200.