The United Kingdom has raised its terror threat level to "severe" following recent attacks in Austria and France that authorities have linked to Islamic extremism.
The threat level of severe means an attack is considered highly likely. It is the country's second-highest level. The level had previously been at "substantial," meaning an attack is likely.
VIENNA TERROR ATTACK SUSPECT SOUGHT TO JOIN ISLAMIC STATE, NO INDICATION OF SECOND ASSAILANT, MINISTER SAYS
Britain's Home Secretary Priti Patel tweeted Tuesday that the move was a "precautionary measure and is not based on any specific threat."
"The public should continue to remain vigilant and report any suspicious activity to the police," she said.
The announcement comes the morning after authorities in Austria said a 20-year-old Islamic extremist fatally shot four people in a busy nightlife district in Vienna before he was killed by police. The shooting rampage happened just hours ahead of a new coronavirus lockdown in the country.
The suspect in Monday night's attack was identified as a young Austrian-North Macedonian dual citizen with a previous terror conviction for attempting to join the Islamic State extremist group in Syria.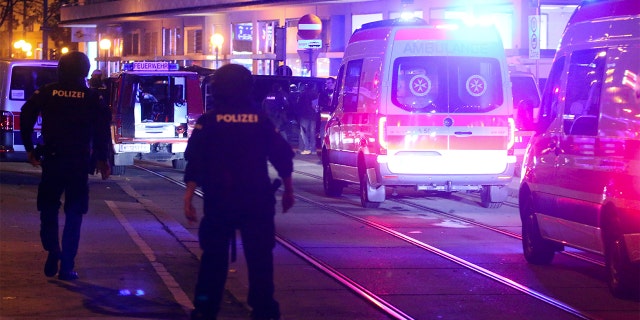 "Yesterday's attack was clearly an Islamist terror attack," Austria's Chancellor Sebastian Kurz said. "It was an attack out of hatred — hatred for our fundamental values, hatred for our way of life, hatred for our democracy in which all people have equal rights and dignity."
It was the second attack that authorities have linked to Islamic extremism to strike Europe in less than a week.
MACRON DECLARES FRANCE 'UNDER ATTACK' AFTER CHURCH BEHEADING, BOLSTERS SECURITY AT SCHOOLS, RELIGIOUS SITES
A man armed with a knife decapitated one woman and killed two others at a church in the southern France city of Nice on Thursday. 
The suspect, believed to be acting alone, was injured during his arrest and was taken to a local area hospital. As he lay wounded, the Nice mayor said the attacker exclaimed "Allah Akbar!" over and over.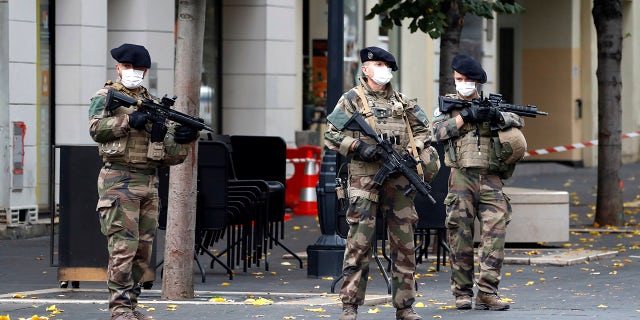 French authorities opened a terrorism investigation and Prime Minister Jean Castex said the country's threat level would be raised to its maximum after the attack.
"It's very clear that it is France that is under attack," President Emmanuel Macron said during an address in Nice, adding that "France will not give up on our values" in what he described as an "Islamist terrorist attack."
The rise in tensions comes after last month an 18-year-old man of Chechen origin beheaded a French middle school teacher who had shown caricatures of the Prophet Muhammad in a civics lesson on free speech. 
CLICK HERE TO GET THE FOX NEWS APP
Islamic State extremists issued a video a day before the attack in Nice, renewing calls for attacks against France.
The Associated Press contributed to this report.