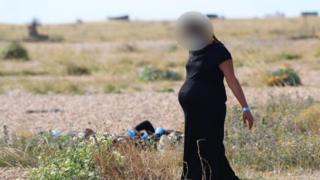 A total of 235 migrants were intercepted crossing the English Channel on Thursday, the Home Office confirmed – a record for a single day.
Among them was a group of 15, including children and a heavily pregnant woman, that landed on a Kent beach.
In total, 17 vessels were apprehended by The Maritime and Coastguard Agency and Border Force units.
Including Thursday's total, 3,948 people have crossed the Channel in more than 300 boats so far this year.
The Home Office has not been able to supply a breakdown of genders or nationalities of those who were intercepted.
Eyewitness Susan Pilcher told the BBC she had seen three family groups on Dungeness beach, as well as two single men.
One woman appeared to be heavily pregnant, she said.
Channel crossings by migrants in small boats
Number of people reaching the UK each month since July 2019
Not including those who arrived in Kent on Thursday, at least 3,713 people have successfully crossed the English Channel in 286 boats in 2020.
On Wednesday, a small boat with 13 migrants on board who presented themselves as Afghan, Iranian, Iraqi, Eritrean and Sri Lankan nationals was intercepted in the English Channel, the Home Office said.
On 30 July, a then-record of 202 migrants crossed the Channel in 20 boats.
An inquiry has been launched into the reasons behind the huge increase in Channel crossings by migrants.
Among the areas the home affairs committee will examine are:
the role of criminal gangs in the crossings
the responses of UK and French authorities to combat illegal migration and support legal routes to asylum
the conditions experienced by people gathered in northern France seeking to enter the UK and they risks they face
migrants' treatment by UK authorities on their arrival, particularly that of unaccompanied children
Follow BBC South East on Facebook, on Twitter, and on Instagram. Send your story ideas to southeasttoday@bbc.co.uk.