We have several crucial documents, including the paper ones, which could be damaged. Are you wondering about buying a laminating machine? Are you looking for the benefits you could have from it? Everyone has certain documents that we need to keep or store for the long term, and that's where we need laminators. Laminating a paper indeed creates protection for that paper to avoid dirt, damage, tear, wrinkles, and more.
No wonder it would be hard to imagine your crucial paper, or certifications getting damaged. These documents or papers hold immense value in our life. Therefore, it is hard to have these damaged.
Let's look at how these laminating machines work and their types further in this article:
Working Procedure of a Laminating Machine:
There is a specific core purpose of lamination: providing durability, sturdiness, and aesthetics to the papers. The working procedure is somewhat simple as it uses plastic films to seal any valuable document or item. We could say that these machines take the help of a unique combination of pressure, heat, and a roller mechanism that works internally within the device.
Along with the time, laminators have also evolved towards modern technologies. You need to place your document around the pouch, which automatically goes into the machine and comes out with the best results. Several modern laminators have the features of adjusting their temperature as the roller loses heat every time it pressurizes.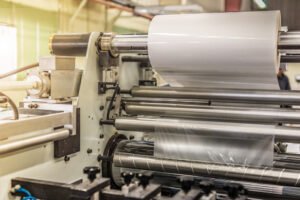 Different types of Laminating Machine:
As we all know, every machine has its pros and cons, but these are something you'd need in your daily life. You'd get to categories these laminators into various types according to their laminating process. Let's talk about a few of the processes here.
1. Hot pouch laminating machine
You will find the laminating materials for this machine type in the form of pouches. Usually, these pouches are two plastic film sheets bound on a single edge. In this case, heat helps in binding to the paper while activating an adhesive. Later, the article comes out from the machine as a durable, ready to place in the wall, and aesthetically enhanced item.
2. Cold pouch laminating machine
No wonder a hot laminator is standard, but there are times when you need to laminate a document that is sensitive to heat. Also, you do not want to risk placing a crucial copy in a hot laminator. Therefore, a cold laminating machine could become the best choice for you. It's not like a typical hot laminator as it only uses pressure to create an adhesive for sealing the plastic film around the paper. Usually, cold laminators are much cheaper, but you'd find the pouches needed along with it quite expensive.
3. Roll laminating machines
Above, we have discussed pouch laminators, but roll laminators are something you have commonly witnessed in various places, including schools and big farms. These are also known as film laminators and could have any general size. It trims the remaining edges once the process gets completed and uses two film layers for laminating. You need to place the document right in the between of the machine-like feeding the paper into the machine's mouth. Mainly this type is flexible and would provide the best results where you'd need to do a large scale of production or laminating items.
Wrapping Up
Undoubtedly, one could get a laminating machine in an affordable price range along with the best features available in the market. Also, these come in several types and designs, sizes that are user-friendly. You can easily use it, and we have already shared the working procedure of a laminator above in this article. These might become a vital business need once you learn about its advantages. But, before selecting the laminator type, it would be best to consider specific necessary points.