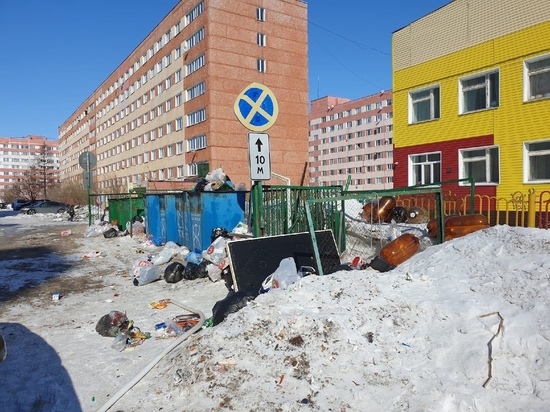 In Novy Urengoy, local residents complained about garbage cans littered with waste near the kindergarten "Golden Cockerel". The regional operator, in response to the complaint, said that additional containers are planned to be installed at this site. A post about this was published on the evening of April 19 in the group "PE | Accident | Novy Urengoy "on VKontakte.
"I am addressing the administration of Novy Urengoy. Kindergarten "Golden Cockerel": in addition to the fact that the entrance to the gate is constantly flooded, it is also surrounded by trash bins on three sides. This is the picture we saw today as of 12:50. That is, we have no conditions even for children. Children, entering the garden in the morning, see this, and in warm weather they also sniff, "wrote an anonymous user of the social network.
The message was reacted by the company "Innovative Technologies", which is a regional operator for the management of MSW in Yamal. According to a company representative, within an hour after this photo was taken, the garbage was removed from this site.
"Removal from this site is carried out according to the schedule – daily, twice a day. The site at this address has been identified as one of those where containers will be added in the coming months. The addition of new containers is primarily necessary for the regoperator and the carrier, so as not to come twice a day and not incur expenses in excess of the planned ones. However, the obligation to provide containers is entrusted to the Criminal Code and local authorities, this is not a quick question in each case, but the most important thing is that measures are being taken, and the city is becoming cleaner, "the Innovative Technologies company commented.
Earlier, we talked about an unauthorized dump in Novy Urengoy – right under the banner "Clean, not where they clean, but where they don't litter." The regoperator said that the owner of the land should take out the garbage.