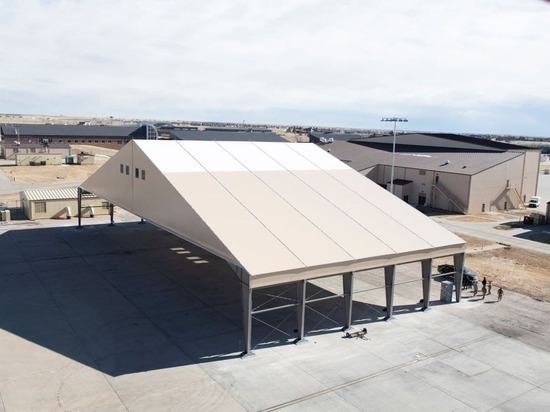 The US Air Force has published a photo of a prototype temporary shelter, which is planned for use, including outside stationary bases, of the promising B-21 Raider bomber at Ellsworth AFB. It is located in the US state of South Dakota.
The most interesting thing is that with this photo the military revealed the wingspan of a new stealth bomber, writes the Military Observer Telegram channel. Based on the size of nearby cars, the width of concrete slabs on the Web, they have already calculated that the wingspan of the B-21 is 42 m, and the length is about 15 m.
Its predecessor, the B-2 Spirit bomber, has a wingspan of 52 m and a length of 21 m. Recall that this is a heavy, stealthy strategic bomber developed by Northrop Grumman. The first modern mass-produced heavy aircraft with a "flying wing" scheme. Designed to break through dense air defense and deliver conventional or nuclear weapons.