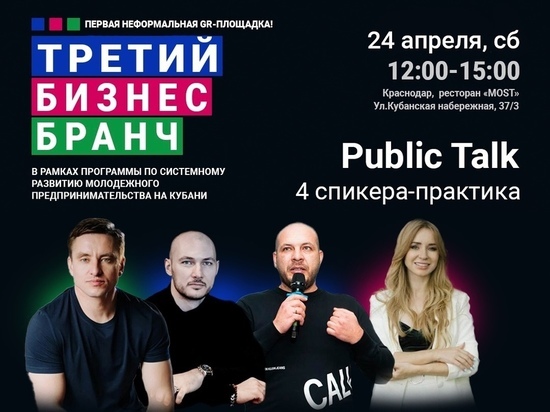 In Krasnodar, in the restaurant-bar "MOST", on April 24, the third business brunch "Business kitchen: how successful projects were created" will take place. Registration is open for everyone. The meeting of entrepreneurs and those interested in this topic will be held in the "Public Talk" format.
The event was organized by the Association of Young Entrepreneurs of the Krasnodar Territory, with the support of the Ministry of Education, Science and Youth Policy, the Department of Investments, SME Development of the Krasnodar Territory, the Youth Affairs Department of Krasnodar and the business publication "Business Man – Kuban".
Four main speakers, true professionals, will share their unique experiences. These are the owner of the SV DESIGN company Olga Sen, the head of the NikaPoliv company Viktor Beganov, the head of the youth affairs department Sergey Fetisov and the owner of the Most restaurant Roman Govorukha.
The business brunch will take place from 12 noon to 4 pm.
Registration by phones: +7 (916) 9703737; +7 (952) 8144614.