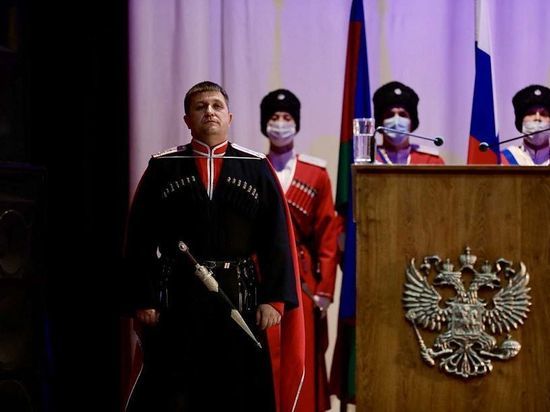 Vladimir Putin approved Alexander Vlasov as ataman of the Kuban Cossack Troop Society, the press service of the Krasnodar Territory Administration reports. The corresponding decree was published on the official portal of legal information. Vice-Governor Vlasov deals with issues of physical culture, sports and the Cossacks. In December he was elected ataman of the Kuban Cossack army. Vlasov was appointed vice-governor in September 2020 during the formation of a new team of the regional administration after the election of Veniamin Kondratyev as governor for a second term. Prior to that, he somewhat held the post of deputy head of the Gulkevichsky district.
The decree of the President of Russia on the ataman of the Kuban Cossack military society says: "In accordance with the federal law of December 5, 2005 No. 154-FZ" On the state service of the Russian Cossacks, "I decide: to approve Alexander Ivanovich Vlasov ataman of the Kuban military Cossack society. This decree comes into force on the day of its signing. "
Let us remind you that the election of the chieftain was carried out via videoconferencing. The Cossacks gathered in the building of the Kuban Cossack Choir, and from there got in touch with the Cossacks and chieftains from all regions of the Kuban.
Alexander Vlasov was born on June 27, 1980 in the village of Oktyabrskoye, Oktyabrsky District, Chelyabinsk Region. Has two higher educations. For 9 years he served in private and officer (command) positions in the Russian army. He is a combat veteran.
Before the election of Vlasov, the Kuban Cossack army was headed by Nikolai Doluda. In January 2020, he was appointed chieftain of the All-Russian Cossack army. The headquarters of the troops is located in Moscow. The goal of the organization is to unite Cossack societies throughout the country.