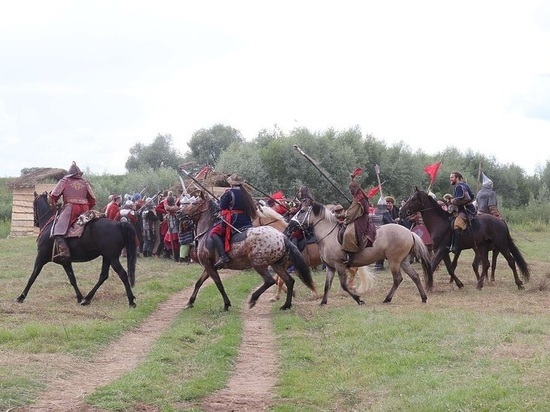 In the village of Palaces on August 22, the events of the Great Standing on the Ugra River in 1480 will be recreated. More than 300 restorers will take part in the annual festival, the Russian Cultural Foundation reports on Thursday, August 6.
"On August 22, in the floodplain of the Ugra River, not far from the village of Dvortsy, Dzerzhinsky District, Kaluga Region, the first stage of the Great Standing on the Ugra River festival will take place, dedicated to the events of the fall of 1480. In 2020, in honor of the 540th anniversary of the Great Standing, the festival is planned to include more than 300 participants and 7 thousand spectators. The culmination will be the reconstruction of the episode of the confrontation between the Moscow and Horde troops, "the Foundation said.
On this day, a military camp will be set up on the banks of the Ugra. Military historical sites, master classes, fairs, a city of craftsmen and refectories will work. Performances of folk groups and professional artists are planned.
On September 8-9, the second part of a large-scale project will take place – the motor rally "In the footsteps of the establishment of Russia's independence". The run will connect the village of Palaces and the Kulikovo Pole Museum Complex in the Tula Region. The rally is timed to coincide with the 640th anniversary of the Battle of Kulikovo – another significant Russian victory over the Horde.
The victorious end of the Great Standing on the Ugra River in 1480 took place on the Kaluga land and led to the formation of an independent Russian state with its center in Moscow. The battle was prompted by Moscow's refusal to pay the Horde an annual tribute. As a result, Russia was finally freed from the yoke of the Horde khans. That is why the Kaluga land is rightfully considered the birthplace of Russian sovereignty. On November 11, 2017, the Kaluga Region celebrated for the first time the Day of the victorious end of the Great Standing on Ugra in 1480. The holiday is established by the regional law on memorable dates. A monument to Prince Ivan III was unveiled on Stary Torg Square. The issue of giving this date federal significance is being resolved.