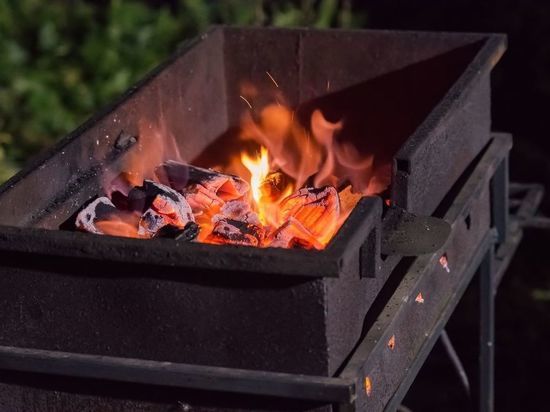 The long-awaited May weekend is approaching – the days when Yamal residents will have picnics in nature. This year, the rules for making fires for barbecue lovers have changed, and violators will face fines. The editorial board of MK Yamal decided to remind the residents of the Yamalo-Nenets Autonomous Okrug how to cook barbecue and not start a fire at the same time.
BBQ in the country
On January 1, 2021, new fire regulations came into force, which regulate, among other things, open fires in the courtyards of private houses. In the decree of the government of the Russian Federation No. 1479, it is specified that making fire in non-combustible containers is allowed at a distance of at least five meters from the courtyard buildings.
It is forbidden to make fires, burn garbage and grass on the common lands of settlements – in the territories adjacent to residential and country houses.
Picnic in the woods
"Choose a place for a picnic not far from the reservoir. If this is not possible, take a few more bottles with you in excess of the required amount of drinking water, and keep them near the fire or barbecue. Avoid having a picnic close to trees and bushes, especially in an area where young conifers grow. Try to find the most open clearing ", – the employees of the Ministry of Emergency Situations called on Yamal residents.
You can make a fire in specially equipped places or where there are old fireplaces. You can do this on sandy spits. If there are no such places, then it is important to properly prepare the future fire pit: to dig it in with a shovel or other improvised means, to clear the area around from dry branches, grass and leaves, to surround it with stones.
During a picnic, you should refrain from using flammable substances and materials, for example, liquids for ignition, which are sold in stores. They can be very dangerous for the vacationers themselves. It is also important to keep an eye on the fire or brazier: one blow of the wind can cause the fire to spread.
"When you leave the picnic area, be sure to put out the fire: fill it with water, wait 15 minutes, turn over the coals and fill it again. You can also throw it with earth or sand to be sure, "the Yamal rescuers advise.
By the way, when going out into nature, you need to take into account the weather conditions. You cannot make a fire during a strong wind, in which case it is better to postpone the picnic to another day.
Violators of the rules face a fine from two to three thousand rubles under article 20.4 of the Administrative Code "Violation of fire safety requirements", and if the fire caused a fire – up to five thousand rubles.
Let us remind you that this year residents of Yamal and other regions of the Russian Federation will have a ten-day weekend in May.