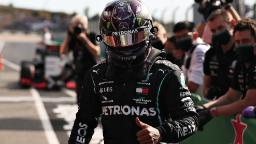 His victory in Portimao was the 92nd of his career, moving past the German's previous record of 91.
Having started on pole, Hamilton squandered his lead on the opening lap but after reclaiming it on the 20th lap, he held off all competitors to further extend his lead at the top of the driver's championship.
The British driver finished comfortably clear of his Mercedes teammate
Valtteri Bottas
in second, while Red Bull driver Max Verstappen finished in third.
Having leveled Schumacher's record of 91 career F1 wins two weeks ago with an emphatic victory in the Eifel Grand Prix, history was in Hamilton's headlights as the 2020 season traveled to Portugal.
And the weekend couldn't have started any better for Hamilton. He secured his 97th career pole with Bottas finishing just 0.101 seconds behind — the ninth time in 2020 that it was an all-Mercedes front row.
But the concoction of circulating rain, low temperatures and a new track made for an unpredictable opening lap.
As rain began to fall, some cars struggled for grip in the wet conditions, meaning they veered off line. It culminated in Verstappen clipping the rear of Sergio Perez's car to spin the Mexican.
Hamilton, usually so dominant from the start, was even unable to hold onto his first position with Bottas passing him early on. He dropped down to third position after Carlos Sainz went ahead.
However, after his tires had warmed up and the weather had eased somewhat, Hamilton kicked it up a gear. He shortly overtook Sainz to reclaim second place and in the 20th lap, regained first position.
And from there it was clean sailing for the 35-year-old. He led for the remaining 46 laps and finished over 35 seconds ahead of Bottas.
More to follow