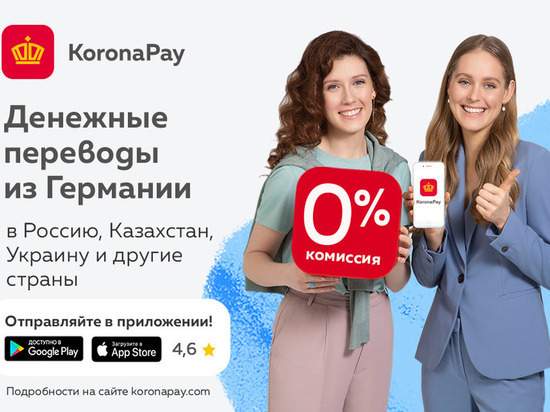 Good news for those who periodically send money to their loved ones abroad and value online services. A new international transfer system is available in Germany – KoronaPay. In the KoronaPay mobile application, you can transfer money from Germany quickly, safely and without commission.
More information about KoronaPay
The service entered the European market in 2020. Today it is used by residents of more than 50 countries of the world, the annual turnover exceeds $ 13 billion.The popularity of these online transfers without opening an account is growing – the number of downloads of the KoronaPay mobile application has already exceeded 9 million.
Why is it convenient to use the application?
In-app transfer fee is 0%. If you send, for example, 100 euros, the addressee will receive exactly 100 euros or a similar amount in another currency (dollar, Russian or Belarusian ruble, hryvnia, Moldovan lei, etc.) with a minimum exchange rate margin upon conversion.
You can send up to 1000 euros for 6 months without proof of identity.
You don't have to worry about the safety of your transfers. The company operates in accordance with international data encryption standards. Money is debited from the account only after confirming the operation with a one-time password. And you can get them in a few seconds after sending.
How to transfer money from Germany to Russia, Ukraine, Belarus, Kazakhstan or another country?
All you need is a phone with a German SIM card (+ 49 …) and the KoronaPay mobile application installed. It can be downloaded for free from the App Store or Google Play. In the application, you need to select the country, amount, specify the recipient, sender and click "Send transfer".
You can pay for the transfer with Visa and MasterCard (Maestro) cards of any European bank, using the services of Klarna (Sofort), Trustly or from a bank account.
The system offers several ways to receive money. You can send a transfer from Germany from card to card in the Russian Federation and Ukraine.
Another option is to transfer funds and receive cash. The addressee will be able to collect money at one of the 50 thousand pick-up points around the world by presenting an identity card and providing a unique transaction number. The method of issuing the transfer can be selected directly during the sending process.
With the new features from KoronaPay, sending and receiving transfers between countries is easy and fast.
In accordance with the Customer Service Terms published on the koronapay.com website. The service is provided by Koronapay Europe Limited, EMI license No. 115.1.3.30, issued by the Central Bank of Cyprus, company registration number HE 375955. The full list of partner banks that provide the service for issuing transfers can be found on the koronapay.com website. Google Play logo and Google Play are trademarks of Google LLC. App Store and Apple are trademarks of Apple Inc.
Germany says this:
What kind of visa is required for vaccination in Russia
Transport Minister Demands Privileges for Vaccinated Travelers
How often an employer should test an employee for Coronavirus