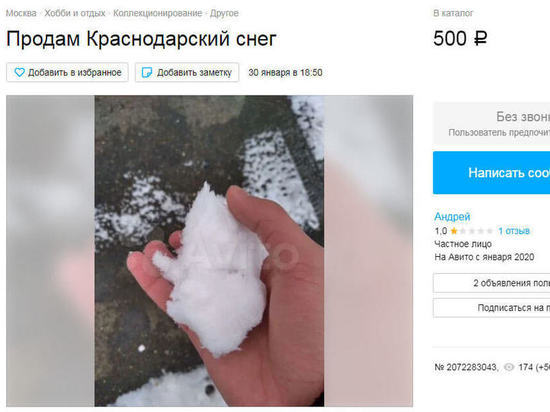 An unusual offer has appeared on the Internet, on the classifieds website Avito.ru. A certain user, registered as Andrey, offers residents of Moscow to buy snow from Krasnodar. He estimated the "piece" of abnormal snowfall at 500 rubles.
"Selling preserved Krasnodar warm white snow. You don't have such a thing, "Andrey describes the product.
In addition, local snow is being sold online. Its cost from Krasnodar does not differ, although the author of the ad clarified that he has a lot of such snow, and the website lists the price for a whole bag.
"The snow is clear, white, not lying on the ground, from the North Tower of Moscow City. Packaged in bags. Self-pickup and delivery ", – written in the ad.