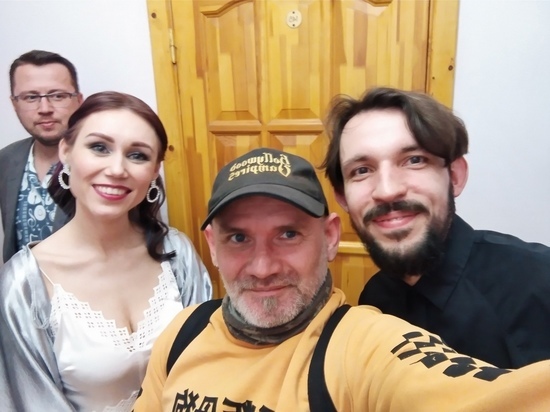 A concert "Silver Age" (12+) of the popular Kirov band EL TANGO took place in the big hall of the Vyatka Philharmonic.
Art blogger Alexey Ulyanov visited the show:
– The concert of EL TANGO at the Philharmonic can be called a landmark, since much for the musicians was this evening for the first time. Nikolai Donetskiy, Alena Koshkina, Mikhail Plyusnin, Vasily Stefanov and Matvey Maryin can be congratulated on their big debut when they performed on the main stage of the city together with the Vyatka Chamber Orchestra conducted by the laureate of international competitions Konstantin Maslyuk. It looked epic and sounded great. Just a great up-and-coming collaboration! Cooperation definitely needs to be continued, since the public is delighted and demands more. It turned out well with the participation of the artists of the Theater on Spasskaya – Mikhail Andrianov and Marianna Uzun, who brought the atmosphere of a literary cabaret into the action.
Also, for the first time, EL TANGO members presented their ORIGINAL material to a wide audience in a separate concert program, which they called the "Silver Age". Nikolai Donetskiy performed as a songwriter based on lyrics by Blok, Mayakovsky, Tsvetaeva, Cherubina de Gabriak and "the most beloved and most musical" Akhmatova. These compositions were written over the years and only now were presented together within the same cycle. It seems to me that Nikolai Donetskiy is just right to think seriously in order to start playing his own repertoire more actively. The concert at the Philharmonic showed that EL TANGO fans are already ready, they are ripe to listen not only to cover versions and improvisations on popular jazz themes. Bravo!
Spoiler alert. The musicians will record and release the program "Silver Age" as a separate album, and it is very possible that in the near future there will be "Silver Age-2" and "Silver Age-3". Fortunately, there is an abyss of "silver" poetic material and it is pleasant to work with it. This, by the way, was noticeable in Alena Koshkina, who simply sparkled with happiness, performing very intimate female lyrics from two of the best Russian poetesses …