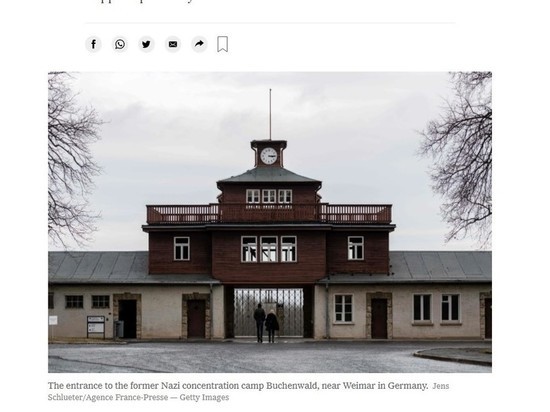 The administration of the Buchenwald Memorial in Germany urged visitors to respect the graves located on the territory of the complex. The announcement comes after some of the guests took a sleigh ride through the graves in a former Nazi concentration camp.
A memorial at the former Buchenwald concentration camp in central Germany this week boosted security following the incident.
According to The New York Times, grave rides in Buchenwald, where tens of thousands of prisoners died, have again made historians worry that the memory of the crimes committed during the Holocaust is fading.
"Tobogganing and skiing is fun," the Buchenwald Memorial said in a Facebook statement. "However, we would like to ask you to respect the victims, and especially not to go sledging or skiing next to or even on graves." …
The statement calls on people to "behave in the dignity of the place."
Between 1937 and 1945, the Nazis imprisoned about 280,000 people in the Buchenwald camp. More than 56,000 people have died from torture, medical experiments and starvation. Even after the camp was liberated in April 1945, hundreds of prisoners died as a result of the conditions in which they were imprisoned.
At this place, near the city of Weimar, there is now a memorial and a museum. The remains of thousands of victims rest in a burial complex at the end of a slope with a bell tower at the top.
Jens-Christian Wagner, director of the Buchenwald Foundation, told the German magazine Der Spiegel that over the weekend, the parking spaces were not filled with visitors to the memorial, but winter sports enthusiasts. Sleigh tracks followed the graves.
As the number of those who can testify to the atrocities committed by the Nazis during the Holocaust is dwindling, historians and experts are concerned that some may try to reduce the incidence of crimes or that the memory of them may disappear from generation to generation.
Holocaust memorials have also been targets of desecration by increasingly aggressive neo-Nazis and white nationalists. Buchenwald is increasingly facing unwanted visits from neo-Nazis, said Volhard Knigge, the foundation's previous head.