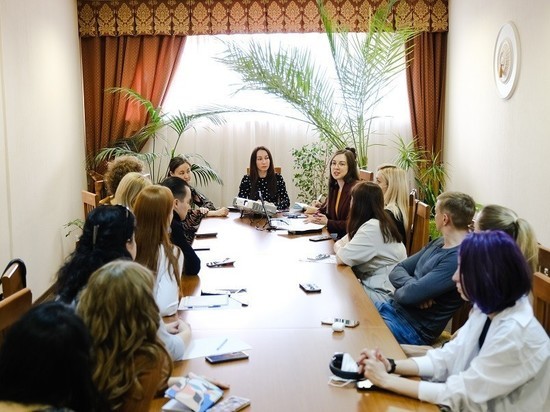 The Council of Young Professionals under the Ministry of Culture and Tourism of the Astrakhan Region has outlined new ways of development.
In the region, a meeting of the council was held in a renewed composition – it again included representatives of theaters, museums, libraries and other institutions. The meeting was moderated by Nadezhda Chudinova, Head of the Information and Public Relations Department. She noted that the ministry supports youth initiatives and is ready to provide support in this.
The participants of the event shared the results already achieved in the project activities, discussed joint events for 2021 and elected a new chairman. By unanimous decision, the council was headed by Yana Khalgaeva, a specialist of the Information and Marketing Center, regional coordinator of the public movement "Volunteers of Culture".
Addressing her colleagues, she voiced the tasks facing creative youth in the framework of the national project "Culture". In particular, in 2019, the Culture Volunteers program was included in the national project. It is volunteering that will become one of the key areas in the future work of the council.
Among the new projects are "Culture of Kindness": work with orphanages and specialized centers, "Good Lessons": interaction with educational institutions and cultural education of schoolchildren, "The Street is Cultivated": creative work with Astrakhan residents and bright street actions. The Open Heart project, aimed at supporting industry veterans, will continue its work.
The new chairperson of the council also stressed that the participation of young specialists in joint actions on the occasion of significant dates will become an important area. For example, April 18 is the International Day for the Protection of Cultural Monuments and Historic Sites. In this regard, the Council of Young Professionals and cultural volunteers will join the subbotniks at cultural heritage sites.
During the meeting, the members of the council exchanged ideas and proposals and expressed their readiness to continue close cooperation. Svetlana Dzhasagulova, a representative of the Kurmangazy Regional Cultural Center, suggested meeting more often in an informal setting. If possible, organize a summer outdoor forum or congress, where the participants could get to know each other better.
"Traveling teambuildings are a good opportunity to get to know each other and come up with new joint projects," she said.