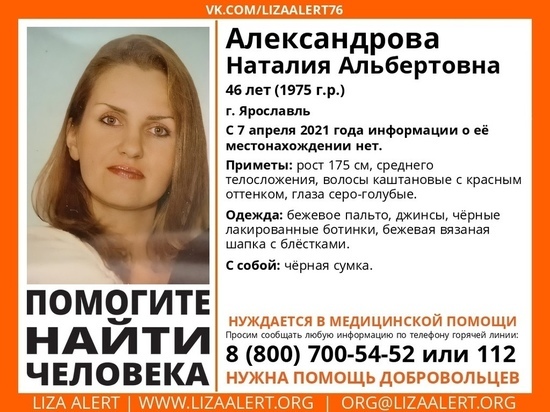 Alexandrova Natalya Albertovna 46 years old, a resident of Yaroslavl disappeared on April 7. The woman left work – from the hotel "St. George", which is located on Moskovsky Prospekt. And she sank into the water.
Relatives of the disappeared say that her husband usually met her from work. But on the day of her disappearance, Natalya Albertovna left work two hours earlier.
Natalia Alexandrova led an open lifestyle. She has no apparent reason to leave home.
Signs of the missing: height 175 cm, physique: average, gray-blue eyes, brown hair.
She was wearing: a beige coat, jeans, black patent leather boots, a beige knitted hat with sequins. Take with you: black bag.
If you know where the woman is, or was after April 7, please call the hotline of the search detachment Lisa Alert 8 800 700 54 52. And call the operational department of the Investigative Committee. +7 962 209-00-08 or 02.