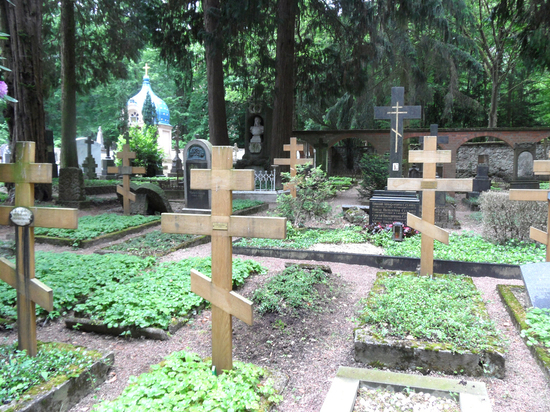 There is an Orthodox cemetery in Wiesbaden, about the restoration of which our newspaper has repeatedly written on its pages. The Russian Orthodox cemetery was consecrated in 1856, a year after the consecration of the Church of Saint Righteous Elizabeth, built as a tomb church by the Duke of Nassau in memory of the early deceased Duchess ─ Princess Elizabeth Mikhailovna Romanova-Nassau, niece of Nicholas II…
Recall that the Wiesbaden cemetery is the first Russian cemetery in Europe. There are 800 graves here. Among the buried defenders of the Fatherland, such as, for example, the participant of the Patriotic War of 1812, Baron Karl Friedrich von Osten; Lieutenant General, Adjutant General, Head of the Main Directorate of the Fate of the Ministry of the Imperial Court, Prince Viktor Kochubei; vice-admiral, commander of the ship "Grand Duke Mikhail", baron Peter Rosen, who defended Kronstadt from the attack of the Anglo-French fleet.
Also buried here are the famous artist Aleksey Yavlensky, Ulyana Küchelbecker, sister of the Decembrist Wilhelm Küchelbecker, Lyceum comrade Alexander Pushkin, actual state councilor, writer Nikita Vsevolzhsky; members of the royal family ─ Countess Olga Merenberg, nee Princess Yuryevskaya, Prince George Yuryevsky, son of Emperor Alexander II, descendants of old noble families ─ Counts Vorontsov-Dashkovs, barons von der Palen and many, many others.
Thanks to the efforts of many, today the cemetery looks well-groomed, and history lovers can happily wander along the paths of the cemetery and each time discover new ones or remember already forgotten names of those who lived and created the history of Russia, Germany and Europe.
Since 2015, the city of Wiesbaden has paid for the work of a person who kept the necropolis in order for nine months a year. Unfortunately, this year due to the pandemic, the city has stopped all activities to support social projects for an indefinite period. This means that currently Wiesbaden does not allocate a person to work in the cemetery.
Recall that the cemetery is located in the forest and without proper care (weeding of wild plants) paths and gravestones will grow, planted hydrangeas and ground cover plants will dry out.
With the blessing of the church, we decided to attract a person who has worked in the cemetery for the last two years from the city, knows this work and does it with pleasure. For only 176 euros a month, he can keep the cemetery in order and prevent the plants from drying out.
But there are not enough funds to pay for the work. Any help would be very welcome.
RUSSISCH – ORTHODOXER FONDS e. V.
Kontonummer: 107078651
Bankleitzahl: 51050015
IBAN – DE17510500150107078651
SWIFT – NASSDESS
Bank Name: Nassauische Sparkasse Wiesbaden
Bank Adresse: Rheinstr. 42-46, 65185 Wiesbaden Deutschland
Olga SHMIDT,
Chairman of the Russian Orthodox Foundation of Wiesbaden…
Germany says this:
Germany: Bosch Introduces "World's Fastest PCR-Test"
Germany: Coronavirus has not affected the payment of material assistance to children of single parents
Germany: Federal government expands list of travel warnings
Germany: Turkish Choir & Soprano 26.09 in Dresden and 27.09 in Berlin