The newest Mustang GT is ready to show the old one how it's done.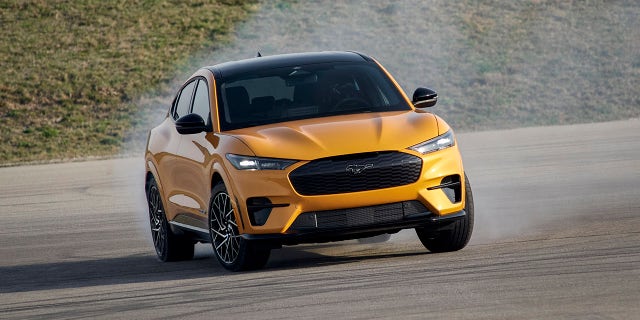 The high-performance electric Mustang Mach-E GT utility vehicle is now available for order and offers more power and quicker acceleration than the V8-powered coupe.
The all-wheel-drive Mach-E GT is rated at 480 hp, which is 20 hp more than the Mustang GT's V8 provides.
It's also offered in a Performance Edition that bumps the torque up to 634 lb-ft. That outshines the supercharged Mustang Shelby GT500 by 9 lb-ft.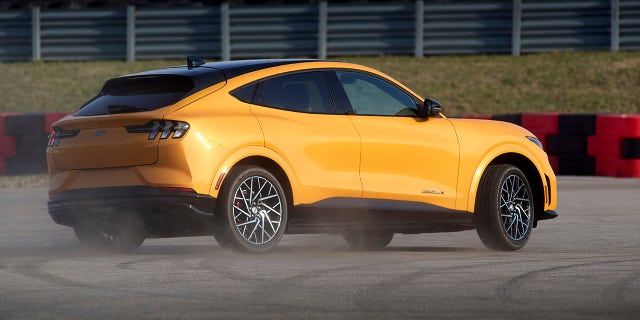 Program director Dave Pericak said the Mach-E GT features two identical motors rather than using a less powerful front motor like the other all-wheel-drive Mach-Es,w which top out at 346 hp.
The Mach-E GT also gets a retuned suspension, upgraded brakes and 20-inch wheels with wider 245-series all-season tires.
FOX NEWS CAR REVIEWS: 2021 FORD MUSTANG MACH-E
According to Ford, it can cover 250 miles per charge and accelerate to 60 mph in 3.8 seconds, but the Performance Edition is even quicker than that.
It'll do the job in 3.3 seconds, but has a range of just 235 miles per charge. Both due in part to its set of stickier Pirelli P-Zero summer performance tires.
The Performance Edition also gets uniquely styled wheels, computer-controlled adaptive shocks, Brembo front brake calipers and unique grey upholstery for its deep bucket seats.
CLICK HERE TO GET THE FOX NEWS APP
Both also have a unique drive mode called Unbridled Extend that cranks up the digitally-enhanced motor noise, loosens up the stability control and balances the power output so it stays consistent over a long lapping session, which is something electric sports cars aren't always great at.
Pricing for the GT starts at $61,000 and the Performance Edition at $66,000. Both currently qualify for the full $7,500 federal electric car tax credit and deliveries are scheduled to begin in the fall.