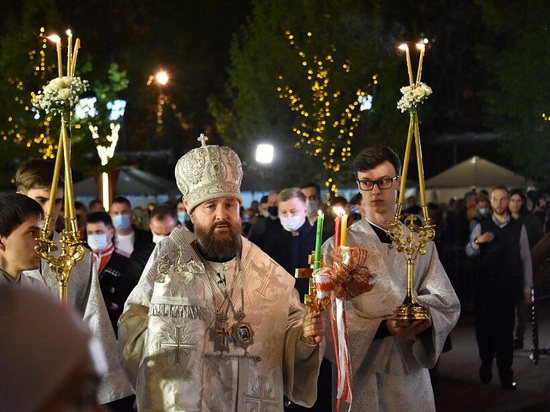 In the Kuban, Orthodox Christians celebrate Easter – the day of the Resurrection of Christ, the press service of the Krasnodar Territory administration reports.
Solemn services were held in all churches in the region. The main Easter service was held at St. Catherine's Cathedral. It was conducted by Metropolitan Gregory of Yekaterinodar and Kuban. On the night of May 1–2, all Orthodox churches in the region worked. The services were held outdoors due to fears of coronavirus infection. The service was attended by the governor of the Kuban, Veniamin Kondratyev, and the head of Krasnodar, Yevgeny Pervyshov.
– I congratulate everyone on the bright holiday of Christ's Resurrection! May peace reign in every family. Strong health, happiness and wellbeing. Christ is Risen !, – wrote Veniamin Kondratyev on the social network.
On Easter night, hundreds of believers, representatives of the authorities, and the Cossacks gathered for the festive service in the Catherine Cathedral to celebrate the coming of the bright holiday of Easter.
Let us recall that the most important holiday for the Orthodox is the Bright Sunday of Christ, which is often called Easter. The day symbolizes the victory of life over death. The date of Easter is calculated every year according to the lunar calendar. Easter does not have a fixed date; the holiday falls annually between April 4 and May 7.
On the eve of midnight, a solemn bell ringing is heard – the evangelism. He announces that the greatest miracle will soon take place – the Resurrection of Christ. The procession of the cross symbolizes the procession of all believers for the risen Christ. From the Christian holiday of Easter, the modern name of the day of the week is also derived – Sunday. Sunday is sometimes called "Little Easter".