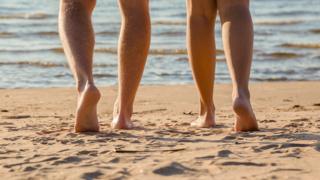 The UK government has warned people planning a foreign holiday that "no travel is risk-free" at the moment, and says they should factor in the risk of having to self-isolate for 14 days upon their return.
It follows a decision at the weekend – which caught many holidaymakers by surprise – to reintroduce quarantine for people entering the UK from Spain.
How does the government decide which countries are on the quarantine list?
The Joint Biosecurity Centre (JBS) – the body set up by the government to monitor coronavirus – advises which countries should be on the quarantine list, and which should be exempt.
The JBS looks at range of factors, including:
an estimate of the proportion of the population that is currently infectious
trends in incidence and deaths
transmission status
information on a country's testing capacity
Why were the rules changed for Spain?
Spain was removed from the list of exempt countries following "a significant change over the last week in both the level and pace" of coronavirus cases, the UK government said.
The Covid-19 infection rate in the country is currently 39.4 cases per 100,000, according to the European Centre for Disease Prevention and Control. This compares with the UK's rate of 14.6.
People already in Spain can stay for the remainder of their holiday, but must self-isolate for two weeks after returning.
The rules apply to travellers arriving in the UK from anywhere in Spain.
For those with holidays coming up, the Foreign and Commonwealth Office (FCO) is advising against all but essential travel to any part of Spain, despite calls for the Canary and Balearic Islands to be exempt from quarantine rules.
Where can I go without quarantining when I get back?
Travellers are exempt from quarantine if they arrive in England, Wales and Northern Ireland from countries which – according to the government – pose a "reduced risk" from coronavirus. These include:
Andorra, Antigua and Barbuda, Aruba, Australia, Austria, Bahamas, Barbados, Belgium, BES Islands, Croatia, Curaçao, Cyprus, Czech Republic, Denmark, Dominica, Estonia, Faroe Islands, Fiji, Finland, France, French Polynesia, Germany, Greece, Greenland, Grenada, Guadeloupe, Hong Kong, Hungary, Iceland, Italy, Jamaica, Japan, Latvia, Liechtenstein, Lithuania, Luxembourg, Macau, Malta, Mauritius, Monaco, Netherlands, New Caledonia, New Zealand, Norway, Poland, Réunion, San Marino, Seychelles, South Korea, St Barthélemy, St Kitts and Nevis, St Lucia, St Pierre and Miquelon, Slovakia, Slovenia, St Vincent and the Grenadine, Switzerland, Taiwan, Trinidad and Tobago, Turkey, Vatican City, Vietnam
Those entering the UK from the common travel area – the Republic of Ireland, the Channel Islands, or the Isle of Man – have always been exempt from the quarantine rules.
The 14 British Overseas Territories are also exempt.
Health measures like quarantine are set by each UK nation separately.
Wales and Northern Ireland have introduced quarantine exemptions for the same countries as England. Scotland is also allowing exemptions, and has updated its own list of countries with which it is now allowing travel without quarantine.
Which other countries are not on the list?
You will still have to isolate for 14 days if you arrive back in the UK from Canada, the US, much of Central or South America, and some countries in Africa, the Middle East and Asia.
Travellers from Sweden, Portugal, Russia and anywhere else not on the list also have to quarantine.
The list will be kept under review, and the government says it "will not hesitate" to remove a country if conditions worsen there, as it has done with Spain.
Equally, further restrictions may be placed on UK travellers if its infection rate rises.
What about restrictions at my destination?
Travellers leaving the UK could still face restrictions – including quarantine – when they arrive in one of the exempted countries.
About half the countries and territories on the list have restrictions for arriving UK visitors. These include:
Antigua and Barbuda requires Britons arriving by air to submit a negative coronavirus test from the past 7 days
New Zealand has barred almost all foreign travellers from visiting, while Australia requires an exemption visa if you are not a resident or a citizen
South Korea imposes a 14-day quarantine
Visitors to Iceland can either choose to pay for a test or go into quarantine
You are not allowed to enter Cyprus if you have been in the UK in the last 14 days. This may change on 1 August, the Cypriot government has indicated.
But these restrictions may change.