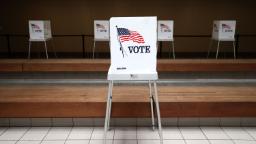 It's a move, supporters say, that could inspire first-time voters to participate in democracy for the rest of their lives.
Proposition 18 marks the sixth time state legislators have considered allowing minors to vote with conditions — but 2020 is the first time it's made it to voters, according to
CalMatters
, a nonprofit and nonpartisan California news organization.
"First-time voters should have the opportunity to participate in a full election cycle — primary and general," he said. "In other words, if you are allowed to vote in the general, you should be allowed to help shape the choices in the primary election."
Opponents say 17-year-olds aren't mature enough to vote
Opponents of the measure, including the Election Integrity Project of California, a nonpartisan coalition of volunteers, say that minors have "no real-world experience," and their decisions could be influenced by their teachers or families.
Supporters of the proposition, including the California Democratic Party and the California League of Conservation Voters, use a familiar argument: Because 17-year-olds can work, pay taxes and enlist in the military (with parental consent), they should be able to participate in politics at that age, too.
Giving the right to vote to people one year earlier could improve voter turnout in the future, supporters argue.
What would happen if it's passed
About 200,000 people in 2016 and 2018 would've been affected by the law if it had been implemented in the past two election cycles. In the past two elections, though, those who turned 18 before the primary often didn't participate until the primary was over, according to PPIC. Only about half of them registered in time for the primary and less than half of those who registered to vote actually voted in the primary.