Need help deciding one of the many possible eCommerce business model to implement for your new venture?
You should identify your type of retailer, your target market, and the benefits you hope to offer them in your e-commerce business strategy.
Investors are more likely to put money into a new or growing business with a well-defined model since it lays out the specifics of how that business will function.
We'll go over the ecommerce business model types, covering everything from how to generate initial revenue to how to scale your firm later on.
Understanding eCommerce Business Model And its Importance
What is e-commerce business model? A company's business model is its core strategy for making money and satisfying consumers. The pricing and value proposition to customers are elements of a successful business plan. The model specifies the company's offerings, target market, and projected costs.
Both start-ups and well-established companies need solid business concepts. They aid businesses in learning more about their clientele, inspiring their workforce, luring investors, and gaining a lasting edge in the market.
While ecommerce business model and strategies consider your business model a living, breathing asset, maintaining a state of constant revision is essential for staying ahead of potential problems. Business model innovation that is actively pursued demonstrates to investors and potential business partners that you can respond to shifting market needs.
Types of eCommerce Business Models
If you want your online store to succeed, you must pick the right eCommerce business model.
You can choose from different ecommerce business model types, including:
Business-to-Business (B2B)
Business-to-Consumer (B2C)
Consumer-to-Consumer (C2C)
Consumer-to-Business (C2B)
Business-to-Administration (B2A)
Consumer-to-Administration (C2A)
1- Business-to-business ( B2B)
B2B refers to any transaction that takes place between two firms. These dealings are often wholesale. Business-to-business sales can be counted as either an online or offline venture. A coffee company, for instance, might sell its beans directly to consumers through its website (B2C) and wholesale to cafes (B2B).
With the B2B model, companies may build lasting bonds with their customers, resulting in increased loyalty, more sales, and cheaper customer acquisition expenses. Statistics show that by 2027, the B2B eCommerce sector will be worth more than $18 billion worldwide, demonstrating the model's importance to the world economy.
2- Business-to-Consumer (B2C)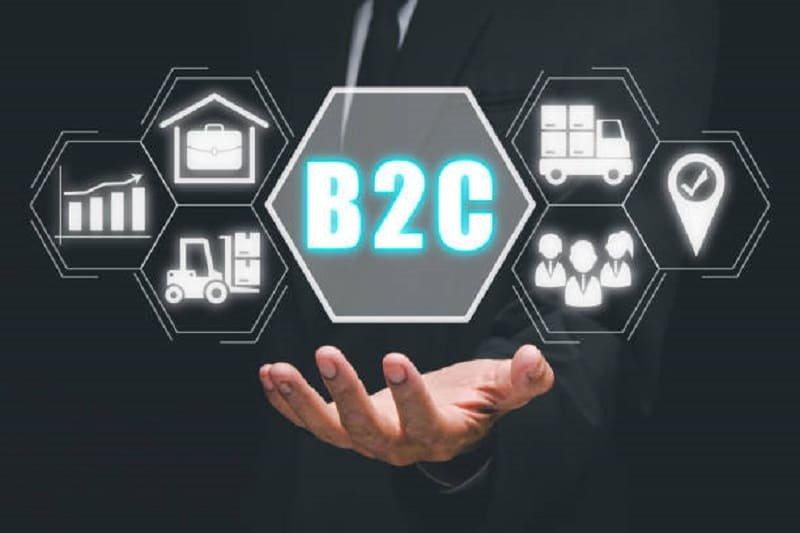 In the b2c ecommerce business model, companies sell directly to customers rather than other businesses. It is characterized by smaller transactions and a greater emphasis on marketing to specific individuals.
Small business owners who sell directly to consumers can save money on marketing because of the shorter sales cycle. However, compared to business-to-business companies, they have a lower average order value and fewer repeat customers.
Selling directly to consumers is a major perk of the B2C eCommerce business model because it cuts out go-betweens like wholesalers and distributors. As a result, B2C companies may keep a tighter rein on their pricing and branding tactics.
3- Consumer-to-Consumer (C2C)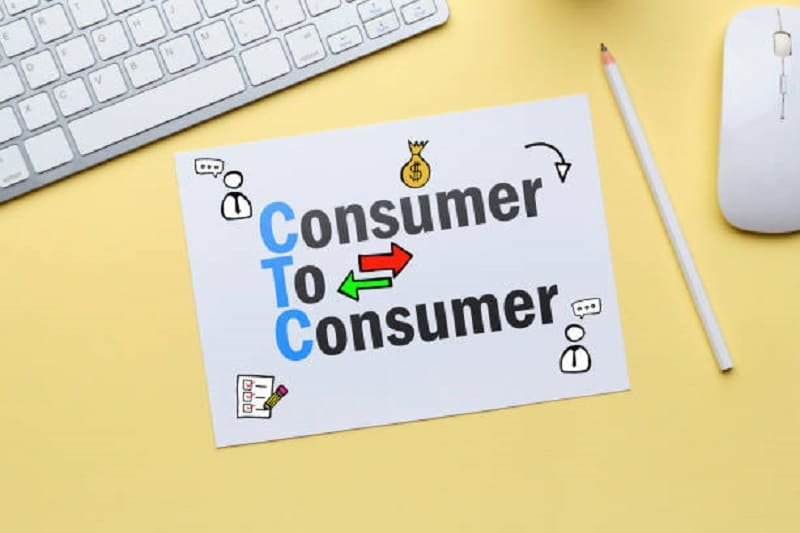 While B2B and B2C e-commerce affiliate marketing business model exchanges are common knowledge, the concept of C2C (consumer-to-consumer) exchanges may be foreign to others.
Individuals transact with one another online to purchase and sell services and goods, as in the C2C eCommerce paradigm. It's sometimes called "P2P" (Peer to Peer) trading.
This concept eliminates the need for go-betweens by connecting buyers and sellers directly, whether they're looking for a new or pre-owned product.
The online marketplace eBay is a prime example of C2C because it allows users to purchase and sell goods amongst themselves, including clothing, electronics, and collectibles. Craigslist is another website where users can advertise their wares for sale to locals.
4- Consumer-to-Business (C2B)
When businesses sell directly to consumers, this strategy is known as B2C (Business to Consumer).
This structure is gaining favor as the gig economy and freelance work flourish. Freelance platforms like Upwork are a typical example. Companies advertise their open positions, and interested parties submit bids for the opportunity to perform the work.
5- Business-to-Administration (B2A)
B2A stands for "business to administration." Online commercial interactions between private companies and public administrations. Business-to-government (B2G) refers to commercial enterprises selling goods and services to governmental organizations.
Businesses and government organizations alike can benefit greatly from B2A eCommerce's efficiency gains. Establishing an e-commerce business model, improves the speed and competitiveness with which private companies can provide government agencies with their services. On the other hand, these services can help government agencies enhance their operations and better serve the public.
6- Consumer-to-Administration (C2A)
The C2A eCommerce concept involves citizens interacting with their governments or public administrations to gain access to a variety of services and data. It's making government services available to the general public via digital mediums.
As more governments worldwide move to digitize their services, it becomes easier for people to access information and make transactions online, driving up the demand for this type of eCommerce.
Common examples of C2A are electronic tax filing systems that allow citizens to submit their tax returns without physically completing and mailing in paper forms. It expedites the filing process for everyone involved and cuts down on human error at the federal and state levels.
Ecommerce Business Model Examples
After discussing the four broad categories of online stores, it's time to examine some examples of these enterprises. Understanding the eCommerce business model of online commerce might help you identify potential niches to operate.
1- Single-Brand Stores
Simply put, the single-brand retail strategy entails a store selling only one brand of merchandise.
Many online Amazon ecommerce business model merchants get their start selling only one brand of merchandise. It's only natural for a newly established manufacturer or service provider to remain true to their original brand. The decision to sell products from other brands can be made as your company grows.
2- Wholesale ecommerce
One definition of "online wholesaling" is a business model in which one company sells in bulk to another via an online marketplace that requires the recipient business to create an account.
Once limited to business-to-business transactions, some wholesale online retailers have expanded into the consumer market. Whether selling to other businesses or the general public, wholesalers need much room to stock their inventory.
Wholesalers selling their wares online typically target retailers, who will subsequently resell the products to the general public through their own online or brick-and-mortar storefronts after adding a profit margin.
3- Dropshipping
When you use a drop shipper, you can bypass the trouble of stocking, packaging, and shipping altogether. It paves the way for virtual shops to sell items without ever having to handle the goods themselves.
An E-commerce business marketing strategy for dropshipping allows you to expand your customer base and establish your reputation as an industry leader while the provider handles the rest.
4- White Labeling
The cosmetics, apparel, and food industries frequently engage in white labeling. It's a business model in which one company manufactures and distributes various products under a blanket license to various resellers. After applying their labeling and markup, these companies can sell to the general public via online retail outlets.
White labeling as an ecommerce business model can help entrepreneurs get off the ground quickly, capitalizing on opportunities as they arise. Because the licensing company has already spent money on research and development and production facilities, the initial expenditure necessary to produce the licensed product is much lower.
5- Digital Merchandise
Digital goods, including music, courses, and software, are commonly sold through online retailers. Since these items haven't traditionally been offered in stores, their availability online represents a major milestone for e-commerce.
While there may be more challenges in manufacturing digital items, logistics for your organization will be much less complicated. Since no storage or materials are required, less money and time are needed to start.
How To Pick The Right eCommerce Business Model?
It's important for the success of your online business that you choose the right eCommerce business model.
Which goods do I hope to market?
Who am I trying to reach, and what are their tastes and habits?
How much down payment am I willing to make on this business?
Where do I stand regarding knowledge and experience, and what tools can I draw on?
How can my eCommerce business strategy get me closer to my long-term business goals?
Your answers will help you determine which eCommerce business strategy suits your company and its target market.
Conclusion:
Get started in the right direction with the help of the various business models discussed above. Then, experiment with new approaches to provide value to your customers. The benefits of an eCommerce business model and a solid business plan will quickly become apparent, and you'll be well on your way to a successful entrepreneurial beginning.
The future of business is uncertain, but the companies that can best adapt to and innovate within the ever-changing eCommerce market will succeed and claim their rightful place in that future.