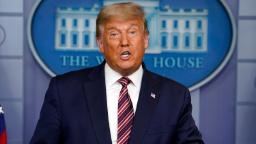 The argument is two-fold: 1) The election is being taken from him and 2) Only Trump among prominent elected Republicans is willing to stand up and fight this tremendous injustice.
"The total lack of action from virtually all of the '2024 GOP hopefuls' is pretty amazing,"
tweeted Donald Trump Jr.
, the President's eldest son, on Thursday. "They have a perfect platform to show that they're willing & able to fight but they will cower to the media mob instead. Don't worry @realDonaldTrump will fight & they can watch as usual!"
"If you want to win in 2024 as a Republican, I would probably start saying something,"
tweeted
former Trump campaign manager Brad Parscale on Thursday night. "Just saying."
This post-election period, then, is being cast as a loyalty test by Trumpworld. Either you speak up and say that Democrats are stealing this election or you don't deserve to lead the party in four years' time.
The problem with that logic is, of course, it's totally illogical. What Trump and his allies are asking Republican elected officials to do is to say that the election is being stolen from the President despite a total of zero evidence that that is, well, actually happening.
To side with Trump on this is to oppose the process that sits at the heart of our democracy. If votes cast legally aren't allowed to be counted because, uh, the President says they shouldn't be, then what, exactly are we left with?
That sort of stance — I won, and even if I didn't it's because Republicans didn't stand up and fight! — is without question an effort to position Trump as the default nominee against Biden in 2024. He's the only one willing to fight for us, his supporters will be convinced to believe. Everyone else looked away at this election was stolen. Only Trump stood up!
That all of that is disproven by a little something called objective facts won't matter to those most loyal of Trumpists. They have already thrown their lot in with Trump no matter what — so what's swallowing one more gigantic falsehood if it allows them to continue to believe that their views represent the majority of Americans?