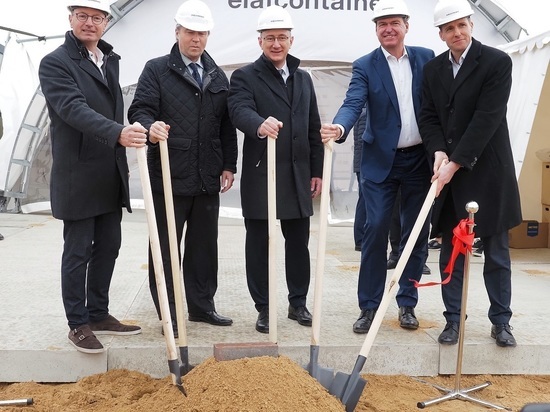 The ELA Container RU company will build a plant for the production of block containers in the Vorsino industrial park of the Kaluga region. On Friday, April 30, a ceremony of laying the first stone in the foundation of the enterprise took place, the press service of the Kaluga government reports.
"A solemn ceremony was held in the Vorsino industrial park, dedicated to the start of construction of a plant for the production of block containers of the company ELA Container RU," the press service said.
The ceremony was attended by Kaluga Governor Vladislav Shapsha, Ambassador Extraordinary and Plenipotentiary of the Federal Republic of Germany to the Russian Federation Geza Andreas von Geir, Chairman of the Board of the Russian-German Chamber of Commerce Matthias Schepp, owner of ELA Container Gunther Albers, General Director of ELA Container in Russia Stefan Leopold.
The volume of investments in the project will exceed 10 million euros. The plant with an area of ​​more than 4 thousand square meters will be built by March 2022. Components for the products will be 100% domestic. The company will annually supply several thousand block containers to the market.
Geza Andreas von Geir, opening the ceremony, noted the successful work of German enterprises in the Kaluga region. Such cooperation has a beneficial effect on relations between Russia and Germany.
Vladislav Shapsha thanked the management of the German enterprise for choosing the Kaluga region for the location of his enterprise.
"It is doubly valuable for us that in such difficult conditions, in the face of a pandemic, you stayed, retained the determination to invest in the Kaluga region, in the creation of this important enterprise for us," the governor said.
At the ceremony, the participants were read out a greeting from Anatoly Artamonov, Chairman of the Federation Council Committee on Budget and Financial Markets. According to him, the government of the Kaluga region will do everything possible to make the construction and operation of the future plant on the territory of the Vorsino industrial park comfortable and efficient.
ELA Container RU is a manufacturer of pre-fabricated buildings from block-containers using German technologies.