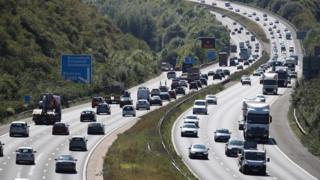 The Reading and Leeds festivals are off and the Notting Hill Carnival is being held virtually, but motoring organisations are predicting a far from quiet August Bank Holiday weekend.
RAC research suggests 18 million journeys will be made by car, up 1.8 million on 2019 – due to staycations.
It's the first time in 54 years the carnival is not taking place, with performers appearing online only.
And bank holiday Monday will be diners' last chance to use Eat Out to Help Out.
Customers have been getting 50% off their meal, up to a maximum of £10 per head, in restaurants, pubs and cafes in the first half of the week during August to encourage support for the hospitality sector hit by the coronavirus outbreak.
But not all people will be able to dine out with friends as restrictions on millions of Britons remain in place over the bank holiday weekend.
Local lockdowns are in force in parts of Greater Manchester, Lancashire, West Yorkshire and Leicester. Restrictions in some areas will be eased on Wednesday.
Forecasters say temperatures over the three days, including on Monday when it will be a bank holiday in England, Wales and Northern Ireland, will be below average.
According to research for the RAC, there could still be heavy traffic on popular routes as people set off on breaks, daytrips, or drive home from staycations.
However, tourist bosses say that while beach resorts and national parks will be busy, businesses in cities were still being affected by the pandemic and overall bookings for overnight stays in the UK were down 44% this year, compared with 2019.
'Enjoy carnival at home'
Music and performances usually performed at the Notting Hill Carnival, started by the Caribbean community and held on the streets of west London since 1966, have been recorded in studios in recent weeks and will be streamed over three days across four channels on a dedicated website.
Each channel will focus on a specific area of the carnival such as its parades, musical acts and culture.
Matthew Phillip, the festival's executive director, urged people to enjoy the event "at home safely" and warned against coming to the area for a street party.
He said: "We would ask them to respect carnival, respect the community, and also respect the health and wellbeing of the people that have been affected by this pandemic."
Illegal raves warning
The National Police Chiefs Council is warning that forces will disperse illegal raves and other mass-gatherings during the Bank Holiday, amid concerns coronavirus rules on social distancing and face coverings were being breached at illegal raves.
New laws apply to England and Wales that mean organisers of gatherings of more than 30 people can be fined up to £10,000.
Among the other events cancelled this weekend because of the pandemic were the Reading and Leeds music festivals, where Liam Gallagher, Stormzy and Rage Against The Machine had been set to headline.
In an interview in the NME, festival organiser Melvin Benn, said the events would be able to return in 2021, with plans to test festival-goers for coronavirus.
Meanwhile, businesses staging events this weekend have had to adapt to the Covid restrictions.
The Luna Cinema launched drive-in cinemas at venues including Ascot racecourse after its outdoor-seated screenings were curtailed for several weeks by the pandemic.
Luna founder George Wood said: "We've now also started back up with our traditional outdoor season that has been carefully curated and planned to ensure safety and enjoyment for all."
He said the events were "fully compliant with social distancing regulations – designated pitches… sanitised seating… and ample hand sanitiser for all guests".
Delays and hotspots
The research for the RAC said Friday was expected to see the largest volume of cars on the road with an estimated 5.6 million separate journeys, with 4.7 million on Saturday, 3.7 million on Sunday, and 4.4 million on Monday,
RAC spokesman Rod Dennis said: "Both official government statistics and our own data from insurance customers show that weekend traffic is now back to pre-lockdown levels.
"It's clear therefore that despite the pandemic, the car has been a vital part of making sure many people have been able to enjoy the summer safely."
The AA is predicting traffic on routes to tourist spots will lead to delays, but says with events cancelled and sport taking place behind closed gates, local roads should be quieter.
It comes as Devon and Cornwall Police are warning of congested roads and say demand on all emergency services are expected to be high this weekend.
"Tourism bosses are already predicting the region is at full capacity, so the message to all visitors is book ahead and plan your trip, expect delays on the road network, and when you do come, support and enjoy the local economy, but do it respectfully," the force says.
According to a survey conducted by Visit Britain, 4.8 million people were planning an overnight stay between Friday and Monday – down from 8.6 million last year.
Patricia Yates, director of the tourism agency, told the BBC businesses have been working flat out to welcome customers back safely, but cities are still being affected because of a "nervousness from people about using public transport and going to indoor attractions".
Lower temperatures
Weather forecasters say temperatures are expected to be below average for this time of year.
The Met Office says highs will range from 14C to 19C, with the top temperatures in London, although parts of Scotland will be chillier – 11C in some areas, below the 16C average there at this time of year.
BBC Weather presenter Sarah Keith-Lucas says after heavy rain and winds brought flooding to parts of the UK, there will be further showers in northern Scotland, the east coast of England and south-east England on Saturday, but conditions should then ease.
Monday is looking largely dry and less breezy and cooler than it has been, she added.