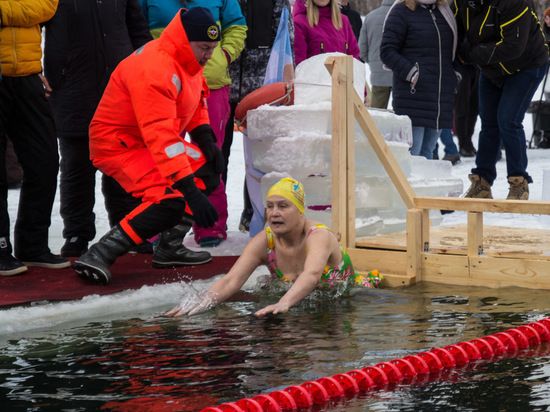 On Sakhalin, in the city of Aniva, for the first time in history, a cold swimming competition was held. 20 participants from 20 to 80 years old dived into the icy water: they swam 25 and 50 meters in crawl, breaststroke and butterfly.
Among the participants is 80-year-old Margarita Tartyshnaya: a woman with ice swimming experience in almost forty years. In the USSR, the benefits of hardening were actively promoted and Margarita succumbed to the advice from the screen, since then she dives every winter.
"This is always a good mood, and health! – Tertyshnaya comments on her hobby. "I never get sick at all!"
Some of the participants came with less experience, but they won immediately. 31-year-old Ilya Maleev is fond of yoga and mountain biking, he decided to try to do cold sports – and immediately the first place in his category.
"Just for myself in the village of Vestochka I dived into the river last winter. Liked it, invigorates, adds health. This year I trained a little and entered the competition. "
The competition was launched thanks to the efforts of members of the Kingfisher cold swimming club. They reached out to the Ministry of Sports and regional deputies, received small funding and assistance in organizing. At first, the Cup was planned to be held on Lake Chervyachnoye in the Korsakovsky district. But it turned out that the ice was too thick there. Therefore, they organized a baptismal font in Aniva: the local mayor Artem Lazarev himself is a walrus with experience, he helped in every possible way in the preparation and took part in the competitions himself.
"We made two paths of twenty-five meters, cleaned the bottom, invited the Ministry of Emergencies to organize security," Lazarev said. – The water is good, warm +1 degree! "
The organizers plan to make the Cup regular: the participants are ready to dive into cold water in a year. It is planned that there will be more of them: several spectators during the competition asked Kingfisher members how to sign up for their club.