About 75% of Americans are eligible to vote by mail in November's presidential election — the most in history — according to a report in The New York Times on Tuesday.
The organization's analysis said that if election turnout increases in accordance with predictions, about 80 million mail ballots would be sent to election offices this fall, a figure that is more than double the number of ballots that were returned four years ago.
GROUP SENDS HUNDREDS OF THOUSANDS OF 'POTENTIALLY MISLEADING' BALLOT APPLICATIONS
As the COVID-19 pandemic spread across America, discussions about safety at polling places forced states to make mail voting more accessible.
In nine states and Washington, D.C., every registered voter will be mailed a ballot ahead of the election. Voters in 33 states will be allowed to cast an absentee ballot without an excuse.
In eight states, every registered voter will be mailed an application to request an absentee ballot. In 25 states, voters will need to acquire an application for an absentee ballot themselves. And, in another eight states, voters still need an excuse beyond coronavirus to vote absentee.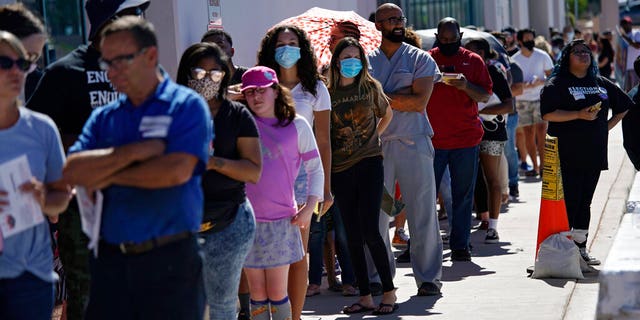 While all 50 states have at least some mail voting, 24 states — as well as the District of Columbia — have expanded access to mail ballots this year.
RNC FILES EMERGENCY REQUEST WITH SUPREME COURT OVER REQUIREMENTS FOR MAIL-IN BALLOTS
During primaries and caucuses, the Times noted that states that made it easier for their residents to vote by mail saw higher turnout; 31 saw an increase compared with 2016.
The creation or alteration of mail-voting expansion plans is largely in direct correlation with partisan politics: Many Democrats favor the shift and Republicans oppose it.
President Trump has continuously criticized mail voting, though a mail voter himself, claiming that the system — except in Florida, which he made his permanent residence — would compromise the election's integrity.
In a Monday news conference, the president told reporters that it would be easy for foreign actors to interfere with mail-in voting and that Democrats are also "meddling."
Politico reported on Saturday that the president's aides had started weighing ideas about executive actions the administration could take to curb mail-in voting as Trump tweeted about delaying the Nov. 3 election.
CLICK HERE FOR THE FOX NEWS APP 
There are plenty of potential hurdles until then and researchers warn of overwhelmed election offices, poll worker shortages, delayed results and a worrying slowdown due to a lack of funding for the Postal Service.
In July, USPS assured Fox News that mail-in ballots would not be compromised.
"The Postal Service is committed to delivering election mail in a timely manner … the Postal Service's financial condition is not going to impact our ability to process and deliver election and political mail," the agency wrote in a statement.