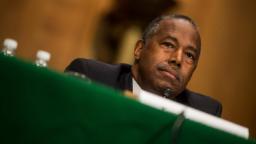 "Secretary Carson has tested positive for the coronavirus. He is in good spirits and feels fortunate to have access to effective therapeutics which aid and markedly speed his recovery," Baker said in a statement.
An aide added that Carson, 69, tested positive Monday morning at Walter Reed National Military Medical Center after experiencing symptoms. He is no longer at the hospital.
Carson's chief of staff Andrew Hughes disclosed the secretary's positive diagnosis in an all-staff letter, writing: "He is resting at his house and is already beginning to feel better."
Hughes also said staff would be notified if they'd been in contact with Carson and that "all precautions are being taken."
Carson, a retired neurosurgeon and a member of the White House coronavirus task force, was spotted maskless at several Trump campaign events in the lead up to Election Day, including a Trump campaign rally in Waterford Township, Michigan, on October 30.
Social media posts by Carson and Trump supporters indicate that the Housing secretary was traveling to campaign for the President in the southeast before Election Day.
The new set of positive coronavirus diagnoses within the President's orbit comes a month after Trump's own bout with the disease.
Men are also more likely than women to suffer severe illness or die from coronavirus, according to the CDC.
This story has been updated with additional reporting on Carson's diagnosis.
CNN's Maegan Vazquez contributed to this report.