Everyone always seems to forget something important when they're traveling, which is why it's a good idea to keep a list so that you don't forget anything that you'll need on your trip. To our male readers, make sure that you never forget another item, no matter how small, on your next vacation with our list of 14 products every guy should bring when traveling. 
What to Bring When Traveling: Men's Edition 
1. Cord Case Organizer 
Between your phone, laptop, tablet, and every other piece of technology that you'll be bringing with you, there are a lot of cords to keep track of. Whether you're traveling for work or for pleasure, make sure that you have the ability to charge your devices without having to buy new charging cables or spending hours searching every nook and cranny of your luggage to find your laptop charger. A cord case organizer is small enough to fit into any backpack or piece of luggage without taking up too much space. It also keeps all of your charging cables in one area. 
2. Travel-Sized Products
Travel pods and travel-sized products are a necessity because you never know what types of items will be available to you in your hotel room. While many hotels provide some amount of soap and shampoo, they might not be the ones right for your skin and hair. Travel-size shampoo and soaps contain just the right amounts of products for your travel without taking up too much room in your suitcase. You can always bring your favorite shampoo to make sure your hair looks great no matter where you go. 
3. Portable Charger
You wouldn't want to be stuck in a new place without having a charged phone, especially if you get lost. Portable chargers are small and compact. You'll never be without the ability to make a call, send a text, or get directions again. 
4. Beard Kit
If you have a beard that you take pride in, a beard kit can keep it in perfect condition throughout your long travels. Beards take work to maintain, and the right products are essential. A beard kit is a small kit that comes with all of the essentials you need, including a comb, beard oil, and balm. 
5. Portable Shaver
If you don't have a beard and shave your face regularly, make sure that you bring along a portable shaver. These can be used no matter where you are, from your hotel room to the airport bathroom. A cordless shaver is an ultra-portable solution to getting rid of stubble, especially if you have an important meeting as soon as your flight lands. 
6. Skincare Products
Bringing your necessary self-care products goes beyond just your beard and facial hair. Dry skin can follow you everywhere, even overseas. Make sure to bring your men's moisturizing creams so that you can have the perfect glow wherever you go.  
7. Travel Wallet
You can, of course, always take your regular wallet with you on your travels, but a travel wallet can help further protect your credit cards and cash. You might not want to take all of your cash with you when you go out, so opt for a small, thin wallet that's equipped with RFID blocking technology. 
8. Travel Pillow
Things happen. Your plane can be delayed, your hotel room might not be ready when you arrive, and you'll be tired from traveling. A travel pillow allows you to rest no matter where you are, but especially on planes or in airports where you might be stuck waiting for a long time. You don't want to get to your destination only to be exhausted, so make sure to get in a good nap on the plane. 
9. Noise-Canceling Headphones
While some people can sleep absolutely anywhere, others can't sleep with noise going on around them. Noise-canceling headphones are the perfect solution if you don't enjoy the hustle and bustle of loud airplanes. They block out external sounds completely so that you can focus on reading, relaxing, napping, or anything else you brought to do on the plane. 
10. Carry-on Suitcase
A carry-on is an absolute must, especially if you want to save money. Checking your bags can be expensive, but if you are the type of man that can travel light, you can save hundreds of dollars by packing everything into your carry-on suitcase. Carry-ons are also less hassle when it comes to airport security and makes walking through large airports much easier. 
11. Day Bag
If your travels require you to carry more than your money, you might need a lightweight bag that makes walking around cities easier. Day bags are essentially backpacks that allow you to carry almost anything from laptops and books to your cell phone, wallet, and more. Make sure to pack all of your charging cables so that you never run out of battery.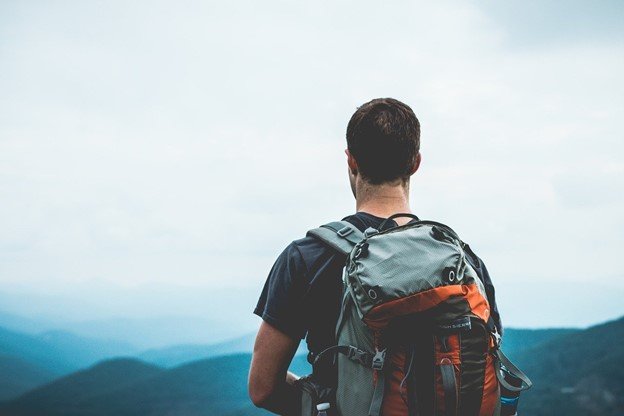 12. Reusable Water Bottle 
Make sure that you bring water with you wherever you go. A water bottle can make a wonderful addition to your carry-on bag so that you don't have to pay for water on the plane. Make sure to take your water bottle with you so that you always have access to clean drinking water. 
13. Power Adapter
A universal power adapter is an absolute must, especially if you're traveling to another country. Having an adapter enables you to have constant access to power so that you can charge your devices, especially your cell phone. Power adapters are light and easy to put in any backpack or bag so that you can keep your cell phone charged no matter how many photos you take when traveling. 
14. Clothing
Of course, you're going to want to bring clothing on your travels. However, it's important to bring the right clothing. Always check the weather of your destination so that you can plan in advance. While you might be planning a getaway to a tropical beach, you never know when it's going to rain, so make sure that you bring clothes for any weather conditions, including multiple pairs of shoes. 
That wraps up our list of the top 14 products every guy should bring when traveling. Remember that it always pays to be prepared when you're traveling, whether you're going to a new city or a foreign country. With these items, you can take your traveling experience to a new level!
Matt Casadona
Matt Casadona has a Bachelor of Science in Business Administration, with a concentration in Marketing and a minor in Psychology. He is currently a contributing editor for 365 Business Tips. Matt is passionate about marketing and business strategy and enjoys the San Diego life, traveling and music.